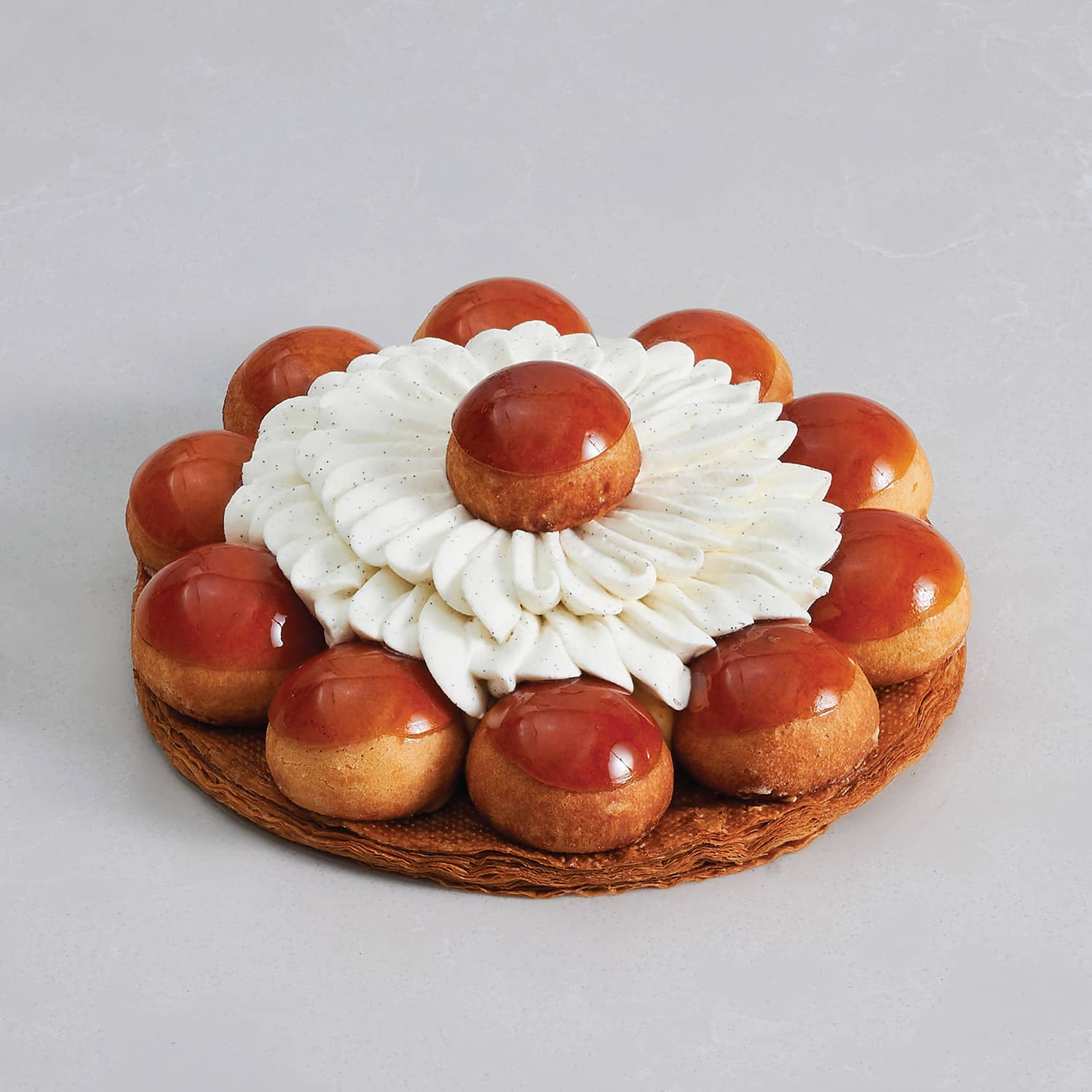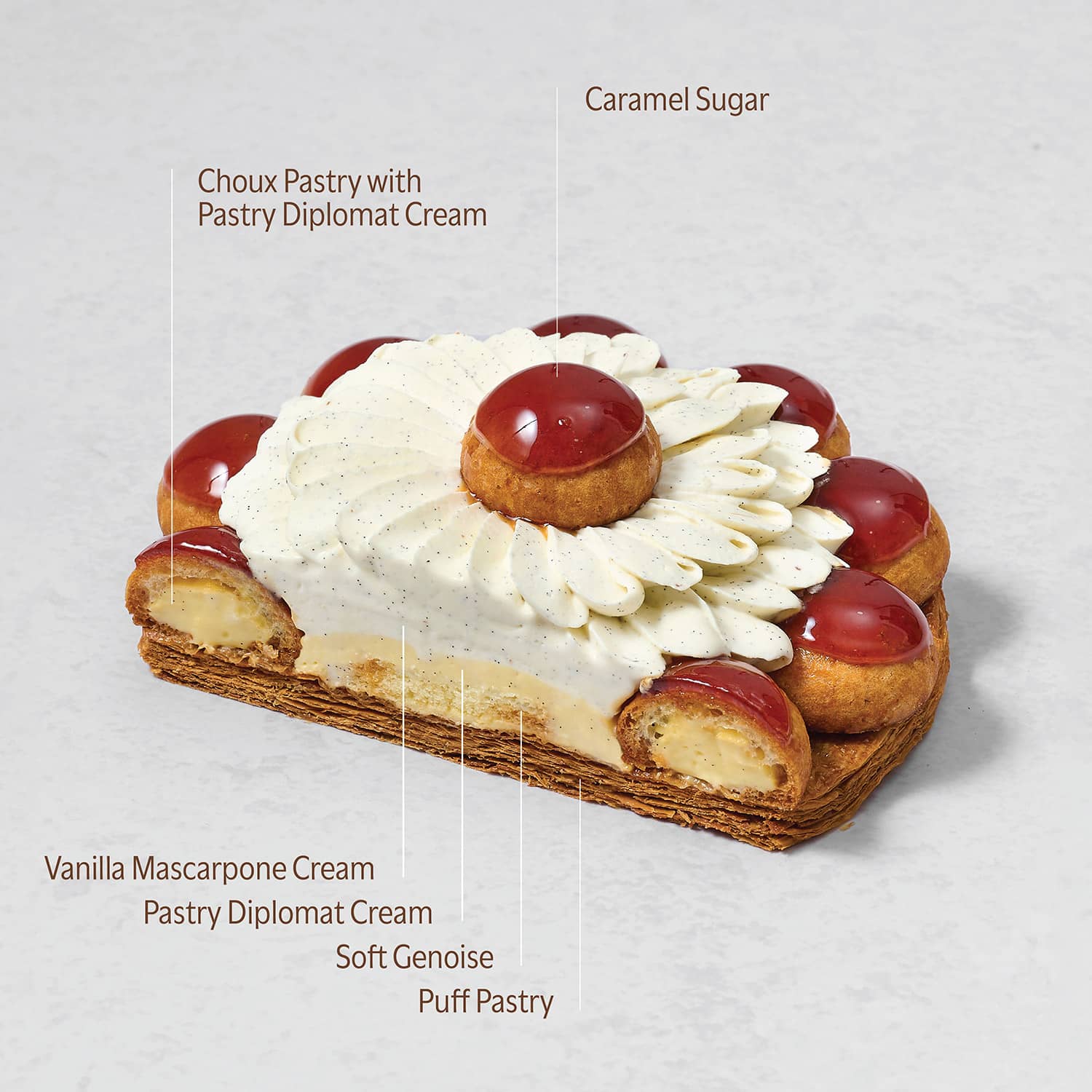 At least 1 day preorder by 2PM
Vanilla Saint-Honoré - A true French classic.
(Pronounced Saynt o·noh·ray.)
This French classic is a culinary concerto, showcasing the finest interplay of luscious French butter, fragrant Madagascar vanilla pods, and an impressive choreography of textures. Enjoy a delicate harmony of floral, sweet, and nutty flavours, made better by a playful textural combo - crunchy, soft, smooth, and flaky - that adds depth and complexity to every bite.
The crunchy oven-baked buttery pastry shatters in your mouth and reveals the rich buttery tones of the high-quality butter that has been masterfully folded into the pastry. Its nutty, caramelised, and slightly savoury notes blend seamlessly with the smooth and creamy vanilla-infused pastry diplomat cream for a luxurious sensory treat.
The melt-in-the-mouth vanilla mascarpone cream is aromatic, sweet, and floral with slight undertones of caramel - it's an indulgent celebration of Madagascan Vanilla, with a generous amount infused into the cream for a rich, full-bodied flavour. The cream's airy texture allows the rich vanilla to delicately shine through, creating a pleasantly nuanced taste without overwhelming the palate. Balancing the textures of this cake are soft choux puffs and a neutral-tasting genoise sponge that offers a tender bite and an overall pleasant mouthfeel. The choux puffs add a hint of smoky sweetness to enhance the nutty shades of the pastry.
A true classic in every sense of the word, this cake showcases the refined artistry and delicate flavours of traditional French baking. Every bite lets off a gentle wave of rich and complex flavours that keeps your tastebuds engaged. Now you can savour the delightful natural flavours of sun-dried Madagascar vanilla pods in this forever timeless French masterpiece.
Refrigeration (0-4°C): Keep refrigerated immediately upon receipt for at least 30 mins. Avoid freezing.
Serving Temp. (10°C - 12°C): Take the cake out from the fridge right before serving.
Best Consumed Within 2 Days: Maintain freshness for up to 4 days with proper refrigeration.
Cutting: Use a stainless steel knife for clean slices.
Consumption: Fork into every layer to savour the full experience.
By Car: Due to temperature sensitivity, we recommend transporting our cakes only by car.
Flat Surface: Ensure the cake is on a level surface at all times.
Short Journey (up to 1 hour): Keep AC on high; avoid sun exposure.
Longer Journey (over 1 hour): Use a cooler bag and ice packs to preserve cake freshness.
(Note: We do not provide cooler bags with orders, but our deliveries are made using cooler bags for optimal quality.)
FAQ
Dates that appear greyed out are no longer available because they have surpassed the cutoff time.
For instance, cakes requiring a 1-day preorder by 2pm must be ordered at least one day prior, before the 2pm cutoff, to ensure we have sufficient time to prepare your cake to perfection.
We do not offer message writing on cakes. However, we provide a personalized message card service. Please enter your message in the designated box above when placing your order.