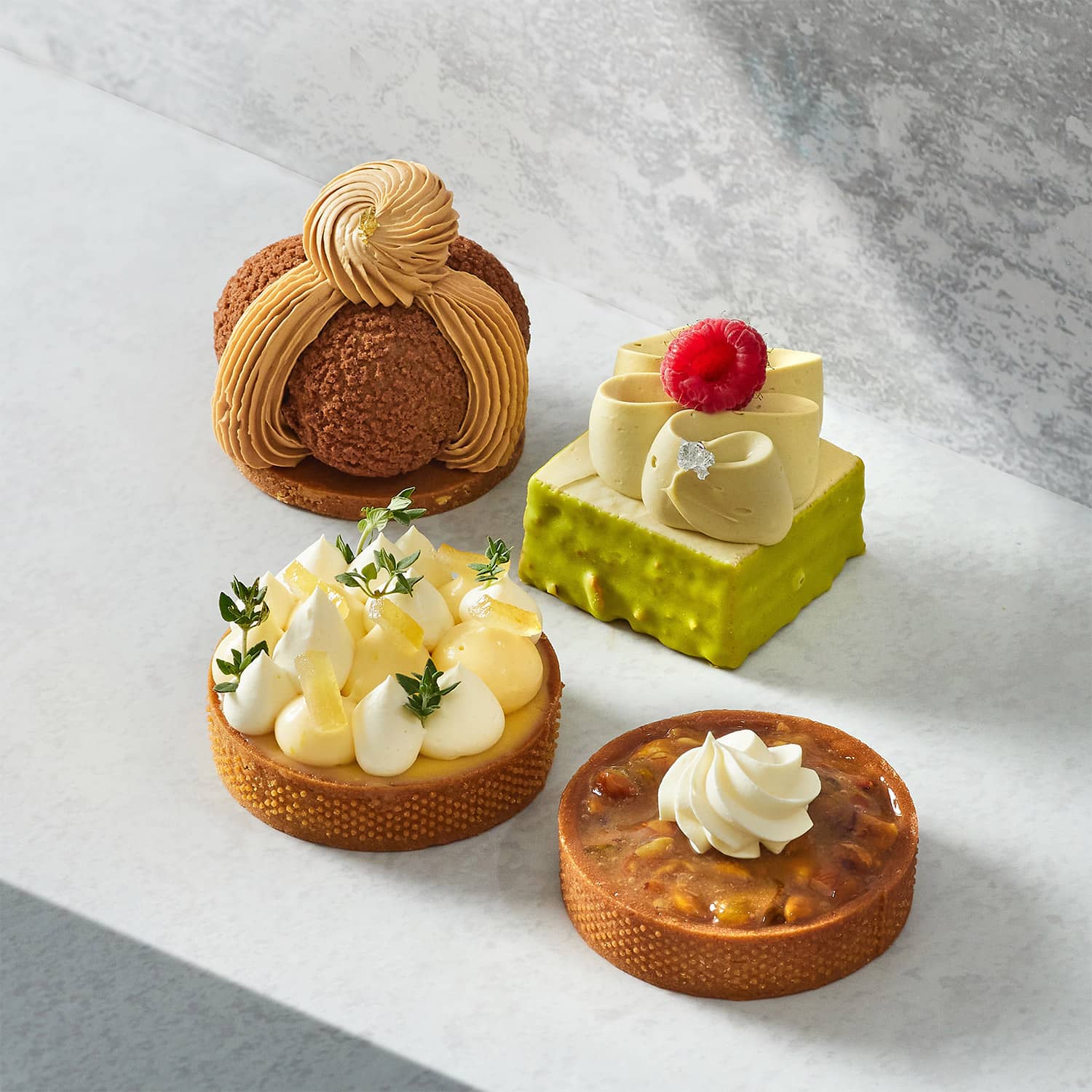 Petit Gateaux - Teatime Set
At least 1 day preorder by 2PM
Petit gâteaux mean 'little cakes' in French. Our petit gateaux are mini versions of most of our whole cakes. They're petit but full of flavour. These dainty and elegant delicacies are carefully handcrafted using only the finest ingredients with no artificial flavoring and preservatives. Our petit gateaux get our customers going and is especially enjoyed for teatime, birthdays and special occasions. 
Pistachio Raspberry


Rich and earthy pistachio is wonderfully paired with the fruity taste of raspberry. This delicate and subtle flavor is great with a cup of tea. It's mild and sweet - perfect to wind down and relax. 

 


Components: Pistachio crunch base, Pistachio joconde, Raspberry marmalade, Pistachio gourmet glaze, Pistachio ganache whip, Fresh raspberry, Edible silver leaf.  
Chocolate Caramel Mixed Nut Tart


Sweet and salty, nutty and crunchy - this treat is perfect for nut-lovers! It's the least sweet out of the 4 and gives you the most satisfying crunch. Sit back, have a cup of coffee and relax with our mixed nut tart.


Components: Almond sweet tart crust, Belgian chocolate ganache, Sea salt caramel mixed nuts & dried fruits (pistachio nut, hazelnut, almond nut, apricot, cranberry, raisin) and Chantilly Cream.
Citron Tart


The sweetness of the crunchy tart paired with a delightful lemon curd makes this chic treat a great refreshment. Popular among our customers, this darling dessert is light and gentle with a lot of flavor.


Components: Almond sweet tart crust, Lemon curd, Lemon cream, Chantilly cream, Lemon Peel and Lemon thyme.
Salted Caramel Saint-Honore


Salted caramel milk chocolate whip is paired with a nutty praline base and fluffy choux puffs made out of milk chocolate and stuffed with caramel. This comforting treat is the right amount of sweet and salty, with not one overpowering the other.


Components: Almond praline crunch, Salted caramel ganache whip, Choux puff and Edible gold leaf.
Refrigeration (0-4°C): Keep refrigerated immediately upon receipt for at least 30 mins. Avoid freezing.
Serving Temp. (10°C - 12°C): Take the cake out from the fridge right before serving.
Best Consumed Within 2 Days: Maintain freshness for up to 4 days with proper refrigeration.
Cutting: Use a stainless steel knife for clean slices.
Consumption: Fork into every layer to savour the full experience.
By Car: Due to temperature sensitivity, we recommend transporting our cakes only by car.
Flat Surface: Ensure the cake is on a level surface at all times.
Short Journey (up to 1 hour): Keep AC on high; avoid sun exposure.
Longer Journey (over 1 hour): Use a cooler bag and ice packs to preserve cake freshness.
(Note: We do not provide cooler bags with orders, but our deliveries are made using cooler bags for optimal quality.)
FAQ
Our Petit Gateaux sets come as they are – we don't offer custom combinations.
Unfortunately, our Petit Gateaux Sets are exclusively available for order on Tuesdays and Sundays. Please ensure you pre-order at least one day in advance, by 2pm.