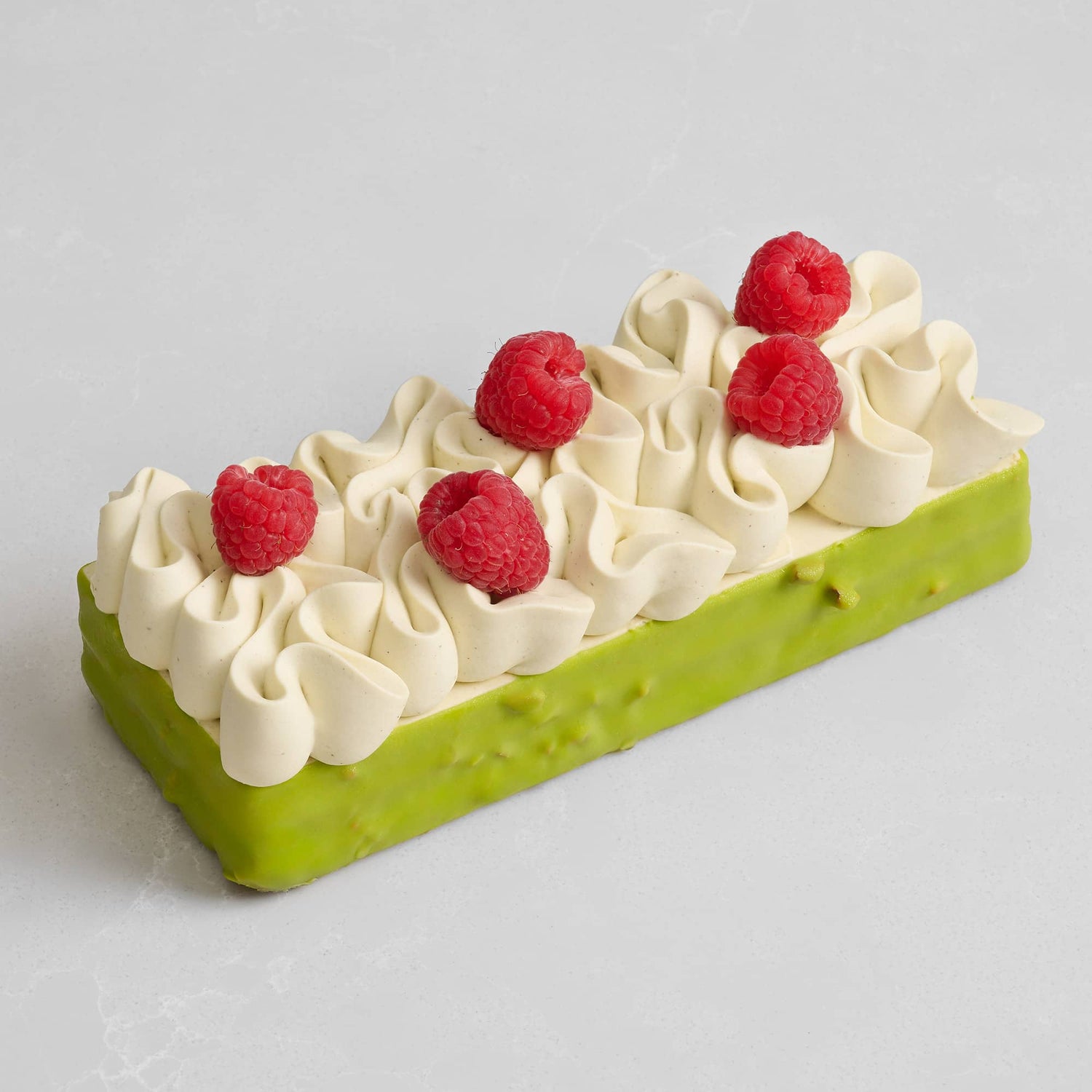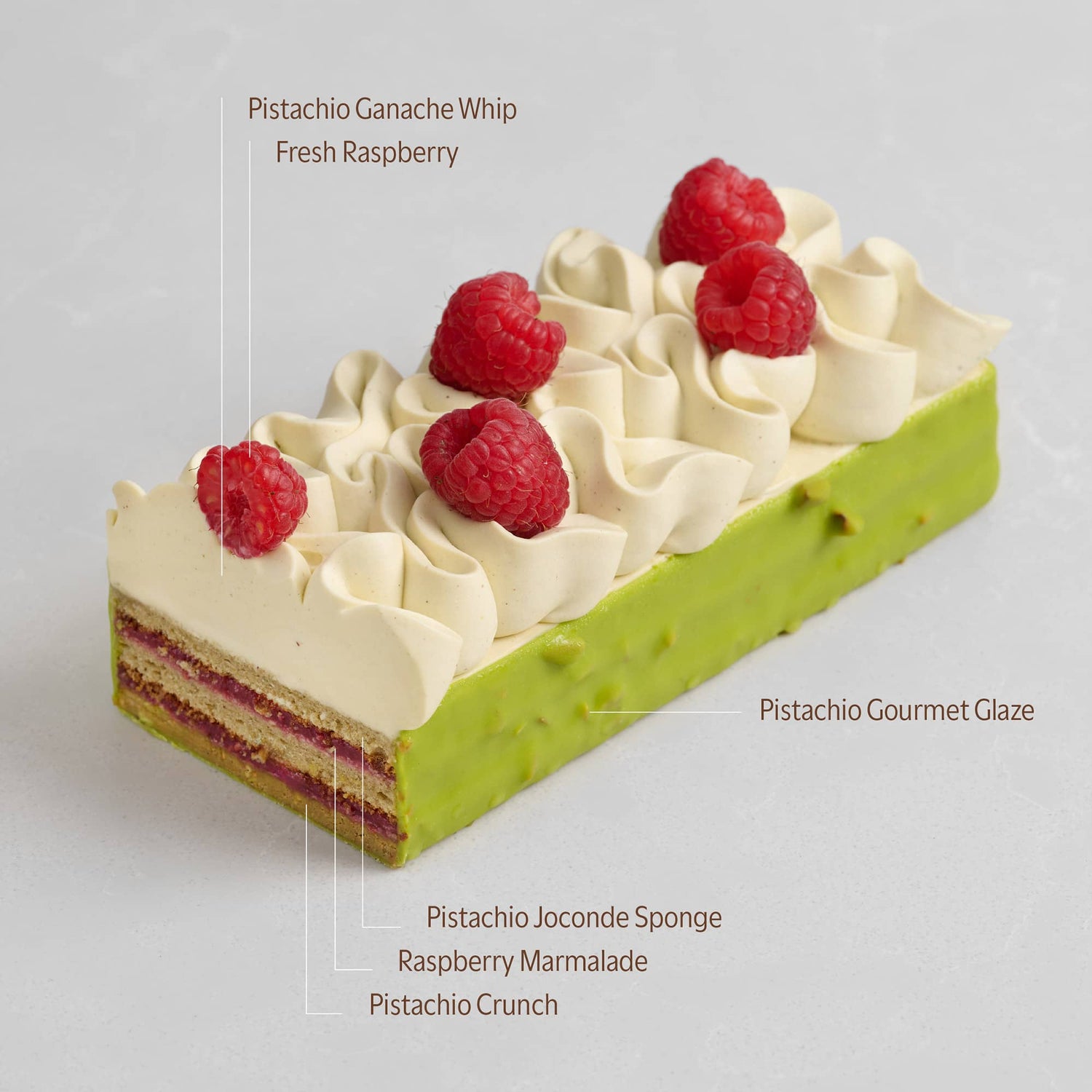 At least 1 day preorder by 2PM
Strong nutty pistachios, refreshing tangy raspberries - the best of both worlds
Made with raw imported pistachios, and fresh juicy raspberries, this widely loved European flavour pairing will arouse your tastebuds with a refreshing balance of rich, tangy, nutty pistachio-y, and sweet flavours that shine through beautiful layers of whip, sponge, marmalade, and crunch. Savour the strong natural taste of creamy pistachios, while still enjoying the cooling breath of raspberries and the chocolatey smoothness of white chocolate that gracefully adds pleasant blushes of sweet and tang to even out the nuttiness of the pistachios.
The cushiony bite of the tender pistachio sponge lets off a mellow earthy taste and a slight sweetness. The crisp aroma of the raspberry marmalade stimulates your senses as its sweet and tart flavours intertwine with the deep nutty tones of pistachios to form an appetising mix of floral, fruity, and mild flavour profiles that are refreshing to the palate. The pistachio crunch adds a contrasting texture and features the delicate taste of pistachios along with their woody toasted notes. The smooth pistachio whip gives you an additional flavour boost and acts as a textural and flavour complement to this overall tart-nutty-sweet cake. The pistachio white chocolate gourmet that coats the cake serves you with a polished chocolatey taste that bestows upon the cake a touch of vanilla-like sweetness.
Experience the distinct depth of flavours of natural creamy pistachios and luscious raspberries that intermingle to form a symphony of sweet, tart, and nutty flavours. Every flavour profile of pistachios, raspberries, and white chocolate embraces and accents the other in a way that will make you appreciate the tastes of these nature-born babies.
Refrigeration (0-4°C): Keep refrigerated immediately upon receipt for at least 30 mins. Avoid freezing.
Serving Temp. (10°C - 12°C): Take the cake out from the fridge right before serving.
Best Consumed Within 2 Days: Maintain freshness for up to 4 days with proper refrigeration.
Cutting: Use a stainless steel knife for clean slices.
Consumption: Fork into every layer to savour the full experience.
By Car: Due to temperature sensitivity, we recommend transporting our cakes only by car.
Flat Surface: Ensure the cake is on a level surface at all times.
Short Journey (up to 1 hour): Keep AC on high; avoid sun exposure.
Longer Journey (over 1 hour): Use a cooler bag and ice packs to preserve cake freshness.
(Note: We do not provide cooler bags with orders, but our deliveries are made using cooler bags for optimal quality.)
FAQ
Dates that appear greyed out are no longer available because they have surpassed the cutoff time.
For instance, cakes requiring a 1-day preorder by 2pm must be ordered at least one day prior, before the 2pm cutoff, to ensure we have sufficient time to prepare your cake to perfection.
We do not offer message writing on cakes. However, we provide a personalized message card service. Please enter your message in the designated box above when placing your order.