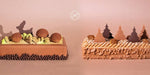 2 captivating 2021 Christmas cakes that will WOW your friends and family!
Let us bring the flavours of Christmas to you.
Ho ho ho, it's Christmas time! This means festive Christmas cakes yet again! Don't you think it's time to spice up your Christmas dessert table with something new, fresh, and jaw-dropping all at the same time? We do! Each important season, we introduce exciting desserts with unique flavour profiles that stand out in terms of taste and design. This Christmas, after weeks of brainstorming and getting inspired by the likes of fellow Malaysians, we've come up with some super tasty, yet incredibly 'out-there' Christmas cakes that will leave your guests in awe (we hope!). Say hello to our delectable take on your classic Christmas favourites and traditional Christmas flavours all in these unique Christmas cakes.
Taking the theme of a magical Christmas forest where reindeers gallop and magic mushrooms grow, this cake is a chocolate heaven. Chocolate cakes are a classic at many Christmas celebrations and our twist on this classic will fit right in at your Christmas get-togethers!

Four Valrhona chocolates - each for every chocolatey layer
Valrhona is one of the best chocolate manufacturers in the world and you'll get to see why that is with this cake! Varlhona Guanaja 70% dark chocolate in the cake's sheeny glaze has an astounding bitterness with aromatic flowery notes. The mousse will welcome you with an exquisite bitterness and pleasant notes of fruit from the Valrhona Manjari 64% dark chocolate. You'll taste the again, bittersweet, but with soft fragrant notes of almonds and roasted coffee in the airy genoise that's made from Valrhona Caraibe 66% dark chocolate. Completing this beautiful medley of chocolate flavours is a Valrhona Jivara 40% milk chocolate with notes of vanilla. Sounds fascinating, doesn't it?
A flavourful orchestra of aromatic earl grey, fragrant berries, and rich chocolate. 
You would think that this cake is a burst of nose wrinkling bitterness, but it's in fact a firework of lip-smacking, eye-closing, smile inducing, finger linking goodness with the citrusy breath of earl grey from the cremeux and base layer, along with the ever so inviting flavour of the strawberry, raspberry confit deliciously embracing the remarkable flavour profiles of the rich and smooth chocolates. The fresh floral flavours gives this cake the perfect balance of bitter, sweet, and tang.


Mont Blanc, literally means white mountain, and is a popular snow-capped-mountain-like dessert invented by Angelina Patisserie in Paris. Our version comes in oblong and resembles a Christmas tree forest. And just like the classic, this Mont Blanc shines confidently in chestnuts.

Woah, what in the chestnut?
This cake screams chestnuts, but in the most delicate way. So, prepare to have your minds blown. It's infused with sweet, nutty, and buttery chestnuts in a variety of exciting textures. The chestnut vermicelli is made of 100% chestnuts and its curly paste-like texture is what gives this cake its name. You'll notice the importance of this layer on the very first bite and how it brings every other textured layer together. This chestnut mont blanc is elevated by an intense tart-like blackcurrant ganache. You may be unfamiliar with a chestnut-blackcurrant combo, and may be skeptical even, but the fragrant sweet and tangy fruit unites simply brilliantly with the nuttiness of the chestnuts. Accompanied by the slightly sweet almond base, and the creamy milk chocolate coating, it not only adds to the uniqueness of this cake, but gives it its 'WOW' factor. It's a beautiful firework of flavours, and an exhilarating sensation of textures that you'll want to slowly savour with every bite.

For the adventurous lot - you'll be glad you tried it!
Mont Blancs are famously enjoyed by many Europeans all year round, but at Christmas time, chestnut Mont Blanc steals the people's hearts. Chestnuts, being the original star of this popular Parisian dessert, and part of that classic Christmas song (Chestnuts roasting on an open fire), along with watching Malaysians enjoy roasted chestnuts on Petaling Street, we wanted to introduce this French favourite to you guys! Out of so many chestnut flavour pairings (there are many!), we found blackcurrant to be the perfect match for our chestnut mont blanc as it balances out the earthy flavours of this cake immaculately. Are you ready to let this French dessert sweep you off your feet?
3. Petit Gateaux - Christmas Edition
Like every other Christmas, we've dressed our petit gateaux up in the spirit of Christmas to give you all those festive Christmassy feel. From candy canes, to gingerbread men, and many more Christmas favourites, these adorable mini cakes will draw the attention of not only the little ones, but you guys too!

Jingle and mingle with dreamy little darling cakes
If you're familiar with our petit gateaux, then you'll know that these cakes are mini versions of most of our whole cakes - each having their very own distinct flavour and textures. And if you know our cakes, you know that almost all our cakes have got intriguing flavour pairings and a sensational marriage of textures. The petit gateaux is no different. They come in a set of 4, so there will definitely be a cake to satisfy your guests. It's also an amazing treat to sit around the Christmas table with and share with family and friends. I can already imagine little kids light up in joy wanting to try these cute little Christmas cakes!

For a holly jolly delicious Christmas
Christmas just isn't the same without good food and great company. Gather all your family and friends (only if possible, of course) and spread some Christmas cheer with the good spirit of giving and sharing. These Christmas cakes make a delightful dessert after a hearty Christmas meal, and is perfect to just sit back with the family and enjoy with some tea. They are available for delivery to KL, PJ and many other parts of Selangor. So, near or far, we hope that our cakes not only brings some comfort to your family and friends, but bridges the gap between you and them if you're separated this season.

Oh, and if you're having them delivered as Christmas gifts to friends and family, check out these Christmas wishes if you're having trouble coming up with something! ;)

Merry Christmas!
May the miracle of Christmas fall upon you and your loved ones! 

#TreatsWithLacher