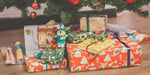 20 Christmas Wishes For Your Friends And Family's 2021 Christmas cards!
Need a wish? Santa's little helpers to the rescue!
It's almost Christmas, (one of) the happiest time of the year! We're sure many of you have completed your Christmas shopping while a lot of you are still looking for that perfect last-minute Christmas present. Either way, you're going to want a Christmassy message to complete the gift - maybe a fun and quirky message that's enough to make someone's smile brighten up the room. Or a sweet and warm message to show your loved one that you're with them this holiday season.
Coming up with Christmas wishes can be tough, especially if it's last minute! We understand the struggle - which is why, as Santa's (self-appointed) little helpers, we've come up with 20 Christmas wishes that we think would pair wonderfully with that Christmas cake of yours, and match impeccably with your special Christmas present.


Funny and cute Merry Christmas wishes for your friends and family
You've been on Santa's nice list this year! Here's a special express delivery for you from the North Pole.
Merry Christmas and Happy Holidays! Love, Santa.


How nice it would be if Santa and his reindeers could bring you here on his sleigh. Merry Christmas!


Since Santa only comes down through chimneys, and you don't have a chimney, I guess he can't give you any presents this year. He'll try again next year! Merry Christmas!


Ho ho ho! Merry Christmas! Santa's bringing you cake this year! Remember to leave him some milk and cookies.


Merry Christmas! What a bright time, it's the right time, to have some Christmas cake. Jingle bell time, it's a swell time, to forget about that Christmas weight!


Merry Christmas and Happy New Year! If you're nice all year long, maybe Santa will be back next year with an even better present!


A little birdie told me that I was the first thing on your wishlist. Here I am! Merry Christmas!


Merry Christmas! I thought long and hard about your gift that now it's too late to get it! Here's the next best thing!


Tis the season to be jolly! Here's some cake because cake makes everyone happy! Merry Christmas!


Merry Christmas! Let's dance and prance by the Christmas tree to the jingle bell rock!


Sweet Merry Christmas wishes for your friends and family
The best gift this Christmas, and every other Christmas, is the joy of family. May you be surrounded with all your loved ones and may all your hearts be light and happy!


The little joys of Christmas - to sit by the Christmas tree, under the cozy Christmas lights, as the sweet melodies of Christmas sing to us Fa la la la la. Merry Christmas!


May your days be merry and bright, and may your faces be all smiles! Merry Christmas!


It's time to spread some Christmas cheer! Here's a little something for you. I hope it makes you smile! Merry Christmas and happy holidays!


It's another Christmas spent without you, but I'm sending you all my love and light. Christmas is in the air, and I'm always with you. Merry Christmas!


Things have not been easy, especially because of the pandemic. Wishing you great health, warmth, comfort and an abundance of blessings!
Merry Christmas! May the miracle of Christmas fall upon you.


It's not what's under the Christmas tree that matters most. It's who's around it. I'm grateful to have you there. Have yourself a merry little Christmas.


May your Christmas star light up so bright and know that all will be alright. Sending you lots of love this Christmas! Merry Christmas!


Merry Christmas! May the gift of love, peace, and joy be upon you and your family this Christmas.


May the brightest stars in the sky guide you and rejoice you with love and joy this Christmas. Merry Christmas!


Simple joys of Christmas
We hope these Christmas messages make your gift giving plans a little easier this Christmas season. Remember, the true spirit of Christmas is always love. May your little meaningful Christmas notes be enough to shower your loved ones with all the love in the world and light up their hearts with warmth and comfort.
If you're still searching for the perfect 2021 Christmas gift to attach your Christmas wishes to, we've got some unique 2021 Christmas cakes that may just be the present you're looking for. 
Merry Christmas everyone!
Remember, be nice! Santa's watching.
#TreatsWithLacher