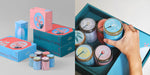 Lachér x WheresGut: Visualising CNY Through Art & Gift Boxes!
It was yet another amazing collaboration with the creative people of WheresGut on our 2023 Chinese New Year Cookie Gift Boxes! From brainstorming creative concepts to getting in tune with meaningful Chinese cherishables, to preparing mockups, to fine-tuning colours, art pieces, and sizes, all the way to perfecting every other little detail, we are proud to say that this year's Chinese New Year gift set, The Blossoming of Spring, was a hit!
Creative Concept & Inspiration
Every year, we do our best to make sure that every gift set we come up with has a solid, well-crafted concept that is reflected in the details of our packaging. We strive to ensure that our gift sets are not only visually pleasing, but have additional layers of purpose and value so that it touches the hearts of those who receive them.
This CNY, we were inspired by nature, specifically spring and the four noble flowers in Chinese culture (Mei, Lan, Zhu, Ju). Holding significant cultural and philosophical values - often seen in Chinese paintings and poetry as more than just a work of art, but a meaningful token - we've incorporated their harmonious essence into our 2023 CNY gift sets.
Mei 梅
The highlight of our 2023 CNY cookie gift sets for their unwavering strength and charm that's especially admired during the month of CNY!
Plum blossoms symbolize winter in Chinese culture because they majestically survive the harsh cold weather, and bloom magnificently when spring comes. Their petals glow bright crimson, and their sweet fragrance comforts the lonely winter air, demonstrating beauty, strength, and hope; and teaching us to never dim our light no matter our conditions - perfect for the start of the new year.
In the springtime, the sight of plum blossoms against a clear blue sky among other flourishing flowers is a moment of joy and fascination, where many begin to appreciate the simple pleasures of life along with the beauty and resilience of nature. 
Lan 兰
Associated with spring, orchids confidently grow in isolated mountainous areas as their floral counterparts bloom in open fields. They exemplify humility - to grow humbly, yet greatly!

Zhu 竹
Representing summer, bamboo swings in the strong summer winds while still remaining sturdy and upright. It shows us strength, and perseverance, and reminds us not to allow sticks and stones to break our bones.

Ju 菊
Chrysanthemums flourish in autumn as other flowers begin withering. It reminds us to keep going; that we can achieve anything we set our minds to.
Serenity of Spring
Soft and gentle colours of nature to express the calmness of spring.
The gift box is painted with the graceful elegance of plum blossoms, the lid of the cookie jars is illustrated with the virtuous flowers, and the box that houses the pineapple tarts has abstract gradients to give you the illusion of a flowing waterfall. So when you receive the gift set; and when you open the gift box, you'd have seen the vibrance of spring, and your eyes would've witnessed the beauty of nature through the contents of the box that, as a whole, present themselves as a traditional Chinese painting. And like the essence of Chinese art, it was important to us that the gift box welcomed you with a feeling of peace and tranquillity.


Chinese Painting-esque Box Sleeve
A melting pot of art and functionality; adding value and prioritising sustainability.
The entirety of our FSC-certified gift box serves not only as a house for our CNY cookies but also as a beautiful poster that paints the reminiscence and emotion of traditional Chinese paintings. Like poetry for the eyes, Chinese art is highly valued for its ability to capture the essence of the object of the artwork while immaculately expressing feelings and thoughts. Admiring this sentiment, we made full use of our CNY gift box by making it transformable into a Chinese painting-like poster that welcomes spring into your homes and exudes the grace of plum blossoms. With this 2-in-1 feature, people have the option to reuse the box, or open it up into a poster and hang it on their walls.
Plum Blossom Decor
An added accessory to further embrace the essence of the treasured plum blossom.
Plum blossoms symbolise strength, hope, and elegance. We simply adored the incredibly encouraging meaning of the flower that we created a plum blossom home decor that emanates beauty and hope all year round! Drawn from scratch, innovatively designed, and carefully crafted, the petals were made into puzzle pieces that can be removed and arranged according to your flowering liking. It took a lot of thinking, restructuring, and weight regauging to a point that the idea didn't seem much too feasible, but after lots of trial and error, we eventually succeeded in creating this impressive piece that radiates and captivates you with the essence of the plum blossom - a stunning reminder that true beauty and strength lie within you, all while brightening your home and decorating your space.

Bringing meaning to every gift set
Here at Lachér, we value the act of gift-giving. Just like how our cakes are thoughtfully made to add wonderment and excitement to life's every moment, our festive limited edition dessert collections are made to extraordinarily add a lot more WOW-factor every important season.
And together with the artistic and imaginative minds of WheresGut, we managed to do just that with The Blossoming of Spring, our 2023 Chinese New Year Cookie Gift Set - a heartfelt, meaningful, and inspiring cookie gift box.