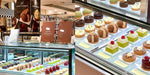 Lacher Patisserie's Pop-Up Booth Experience @ Isetan KLCC!
Lacher Patisserie in KLCC?
If you've heard anything about us, you probably already know that we're an online cake shop that lives and breathe cakes, entremets, and desserts from our central kitchen somewhere in the industrial park of Kota Damansara. We fully operate online via our website with our seamless ordering process - this means, no dine-ins, no walk-ins, no pick-me-ups from the display chiller, you get the drift.
So what's with all this KLCC hype that's lingering around?
Well, earlier this March, we were invited by KLCC to open a pop-up booth at their first-ever Artisan Bread Festival, Salon du Pain! Then, again in November!
Did we or did we not accept the invite?
With open arms, we did! The Bread Fair deeply resonated with us because it revolved around good desserts, and was a great opportunity for us to fulfill our customers' undying request for the first time - that is to sell our petit gateaux individually (not feasible when operating solely online due to operational procedures).
And since the location was convenient, plus we knew many of you would be there, it was a calling we simply could not miss out on. Just the thought of showcasing Lacher face-to-face to our audience filled us with excitement and anticipation, and we were eager to share our passion for desserts with an even larger audience.  
The pop-up experience: Salon du Pain
It was an overwhelming (for a while), yet exciting experience that left us with a lasting impression! Here's how the whole process went!
Production
Super early mornings and long nights!
Hit with a sudden and challenging increase in production, the chefs had to make an overwhelming number of cakes in a day - orders placed by customers via our website, plus the ones that needed to be transported to Isetan, KLCC - that's hundreds of cakes just in the morning itself! Eventually though, the kitchen got the hang of it and it wasn't as taxing anymore. They just needed to be high on energy to survive the long days.
Transport
First time ever transporting our cakes by truck.
It was nerve-wracking beyond words, but thankfully most cakes survived the morning traffic and reached Isetan in perfect condition. Some cakes tumbled during the ride which was expected, but we ended up sharing them among the team - no wasted cakes! 
Selling Offline
Intense, yet exhilarating!
It was an unfamiliar experience, and we were pressed for time while waiting for the cakes to arrive, arranging them in the display chiller, and offering them to customers. Although the first few days were a bit of a roller coaster ride, we managed to learn the ropes of in-person sales, and every day after that was smooth sailing.
One of the highlights of our experience
Meeting you guys!
Receiving compliments, learning your concerns, seeing children smile as they pick their favourite birthday cakes from our display chiller, couples treating each other to petit gateaux that caught their attention, friends coming in groups simply to see us, and families discovering us as they went about their shopping was a treat to our hearts.
Would we have a pop-up booth again?
Absolutely! But only time will tell where and when.
So if you're typing 'Lacher KLCC' into Google with hopes to find another pop-up store of ours there, chances are you're not going to find it anytime soon. Sorry guys! But, we do provide delivery within the Klang Valley so just head on over to our website to order any cake of your choice!
What's next?
Maybe not a pop-up booth, but we've got some exciting things coming up.
I wish I could blurt it out to you, but I've got to keep my big mouth shut and my itchy hands to myself for now. All I can say is, you're gonna like it! Stay tuned peeps!
Check out birthday cakes, entremets, and petit gateaux here!