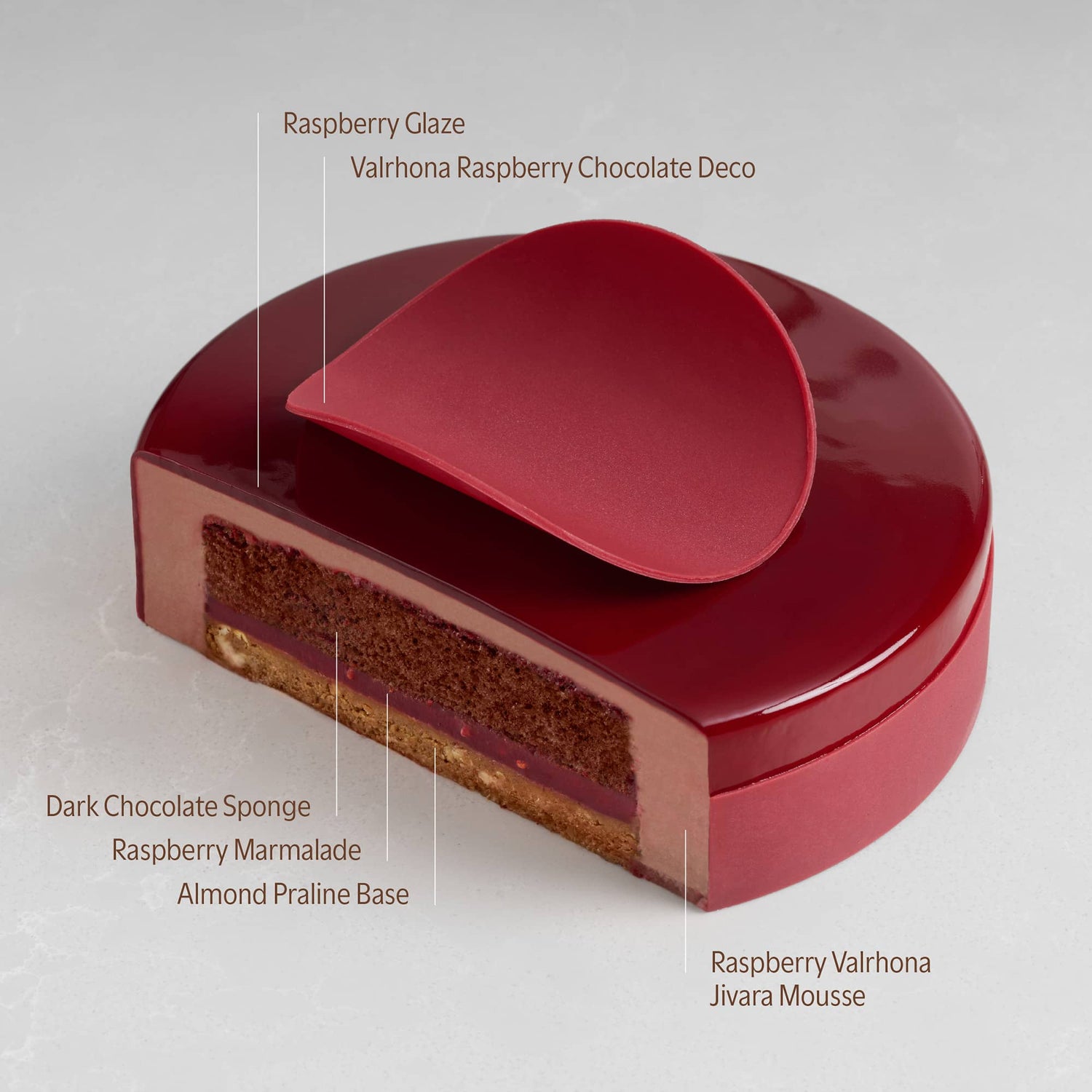 Raspberry Valrhona Jivara Mousse Cake
At least 1 day preorder by 2PM
Raspberry Chocolate Mousse Cake

Where Sweet Meets Sour, Creating Perfection.
This indulgent chocolate raspberry entremet steals hearts with its sexy, yet elegant appearance, and its diversely textured layers that show off the distinct flavour profiles of Valrhona Jivara 40% milk chocolate and Valrhona's Raspberry Inspiration fruit couverture. With creamy milk chocolate, lightly textured tart raspberries, and crunchy almond praline, this mousse cake will excitingly tingle your tastebuds in the best possible way.

The velvety milk chocolate raspberry mousse will melt in your mouth as you enjoyably bite into the dark chocolate sponge, lightly chew on the tender raspberry marmalade, and gratifyingly munch on the crunchy base. The mousse entices you with the sweet malty taste of the milk chocolate which has notes of vanilla and caramel. The refreshing raspberry marmalade, and the chocolate décor, both made naturally of raspberries, alluringly brush your palate with the gentle tangy flavour profiles of jammed fruits. The toasty nuttiness of the handmade almond praline base and the bittersweet bite of the cloud-like dark chocolate sponge tone down and balance out the sweet and tangy flavours of the raspberry-milk chocolate duo.

Fall in love at first sight, then fall in love all over again at first bite. Experience the beautiful marriage of chocolate and raspberry that together, blend into tasty tones of fruit and malt.
Refrigeration (0-4°C): Keep refrigerated immediately upon receipt for at least 30 mins. Avoid freezing.
Serving Temp. (10°C - 12°C): Take the cake out from the fridge right before serving.
Best Consumed Within 2 Days: Maintain freshness for up to 4 days with proper refrigeration.
Cutting: Use a stainless steel knife for clean slices.
Consumption: Fork into every layer to savour the full experience.
By Car: Due to temperature sensitivity, we recommend transporting our cakes only by car.
Flat Surface: Ensure the cake is on a level surface at all times.
Short Journey (up to 1 hour): Keep AC on high; avoid sun exposure.
Longer Journey (over 1 hour): Use a cooler bag and ice packs to preserve cake freshness.
(Note: We do not provide cooler bags with orders, but our deliveries are made using cooler bags for optimal quality.)
FAQ
Dates that appear greyed out are no longer available because they have surpassed the cutoff time.
For instance, cakes requiring a 1-day preorder by 2pm must be ordered at least one day prior, before the 2pm cutoff, to ensure we have sufficient time to prepare your cake to perfection.
We do not offer message writing on cakes. However, we provide a personalized message card service. Please enter your message in the designated box above when placing your order.