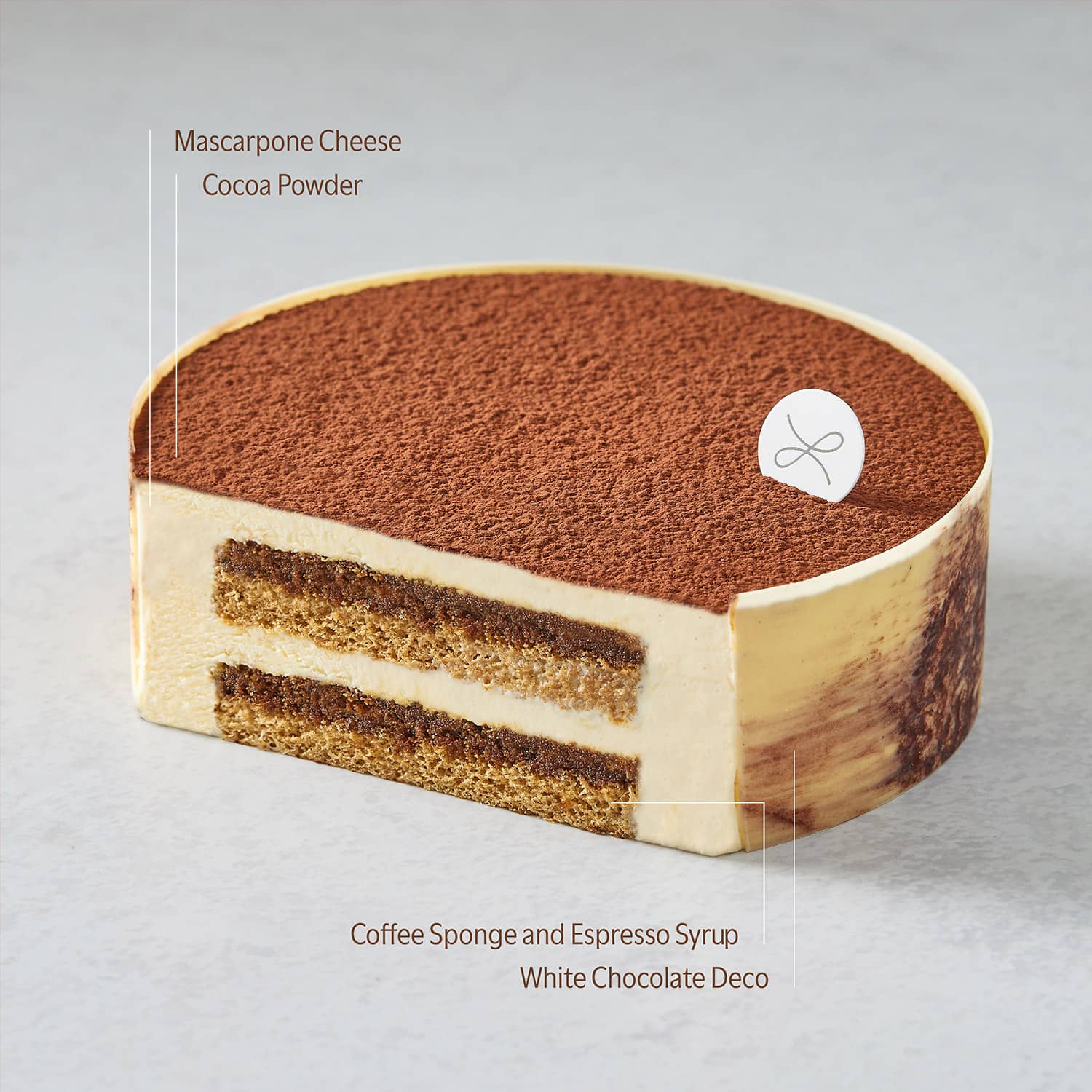 Same-Day Delivery Available
Tiramisu Cake
An Elegant Coffee-Loaded Cake To Give You That Flavour Boost

Our version of the classic Italian tiramisu cake substitutes alcohol with rich espresso and is refined by the ideal touch of white chocolate. Enjoy the bitter, caramel-like sweetness with hints of tartness of the espresso-soaked cushiony sponge cakes, and savour the sweetness of the refreshing velvety mascarpone cheese that adds to the smooth and creamy mouthfeel of the espresso. 

This non-alcoholic tiramisu cake is high on espresso and rich in cocoa powder. The bold flavours of these intense duo are complemented by the subtle sweetness of fresh mascarpone cheese. Enjoy the gratifying kick of coffee as your teeth sink into the fluffy caffeinated sponge and feel the creamy mascarpone cheese envelope your tongue as it delectably humbles the striking flavours of coffee - All this while the white chocolate collar snaps in your mouth and flatters your palate with a hint of feel-good sweetness.

Coffee lovers, coffee never tasted so tasty. Let the pleasurable flavours of this cold coffee dessert lull you to comfort on good days and bad.
Refrigeration (0-4°C): Keep refrigerated immediately upon receipt for at least 30 mins. Avoid freezing.
Serving Temp. (10°C - 12°C): Take the cake out from the fridge right before serving.
Best Consumed Within 2 Days: Maintain freshness for up to 4 days with proper refrigeration.
Cutting: Use a stainless steel knife for clean slices.
Consumption: Fork into every layer to savour the full experience.
By Car: Due to temperature sensitivity, we recommend transporting our cakes only by car.
Flat Surface: Ensure the cake is on a level surface at all times.
Short Journey (up to 1 hour): Keep AC on high; avoid sun exposure.
Longer Journey (over 1 hour): Use a cooler bag and ice packs to preserve cake freshness.
(Note: We do not provide cooler bags with orders, but our deliveries are made using cooler bags for optimal quality.)
FAQ
For same-day delivery or pickup, please place your order by 2pm. This allows us sufficient time to prepare your order and arrange for delivery or pickup.
If a time slot is unavailable, it has passed our cut-off time. We require a few hours to prepare each order and to coordinate logistics, so slots beyond the cut-off time are closed to ensure quality and efficiency.
We do not offer message writing on cakes. However, we provide a personalized message card service. Please enter your message in the designated box above when placing your order.