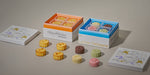 2022 Mooncake Gift Boxes: Get to know more about Mooncakes!
More than just a gift box
It's almost the Mid-Autumn festival and that means it's that time of the year, when hotels, bakeries, and online cake shops alike are bustling with people interested in mooncake gift sets! But what's up with the hype? Simply put, it's like gifting season for friends and family! Mooncake gift sets have become a gesture of affection, love, and appreciation and they are made meaningful as they bridge loved ones together. With many people desiring the perfect mooncake gift set to show the people in their life just how much they mean to them, the market has become competitive and is rolling out some of the best mooncake gift boxes out there! We've summarised the basics of Mid-Autumn and its traditions to give you a better understanding of the significance of mooncakes and gift-giving.

History of Mid-Autumn
The mooncake festival is one of the most important festivals in Chinese culture, after Chinese New Year. It falls on the 15th day of the eighth Lunar Month when the harvest moon floats full, round, and grand in the night sky, showing off its glorious bright shine. On this day, the moon is said to be the brightest in its completeness. Traditionally, and more commonly in the past, the mid-autumn festival was celebrated as a way to thank the Gods post-harvest and as hope for an abundance of harvest the following year. On this auspicious day, the moon witnesses families coming together to worship it. There are also multiple folklores surrounding the reason behind honouring the moon, and one of the most talked about ones that has garnered multiple romantic renditions over time is the legend of Chang'E, the moon goddess, where it is believed that wishes will be fulfilled by worshipping her on the moon.

Mid-Autumn Festival today
While today the harvest moon is not so much celebrated as appreciation for a plentiful harvest, the tradition of family and friends reuniting is still observed and celebrated! Gifting mooncakes as a 'thank-you' to family, friends, clients, and loved ones before the day of Mid-Autumn has become the most common (and widely enjoyed) trend. You gift mooncakes for families to reunite and enjoy the cultural tradition of mooncake sharing! The mooncake festival now is a symbol of gratitude, appreciation, and bonding. Many businesses go all out in creating breathtaking mooncake gift boxes with delicious (and sometimes unique) mooncake fillings that many people appreciate. And a lot of cake shops help build the bridge between separated families and friends by offering mooncake delivery within the country!

Varieties of Mooncake
Mooncakes are an exclusive kind of dessert adoring and taking the likeness of the moon. They represent the reuniting of families and typically have a sweet or savoury filling, often enveloped by another pasty filling such as red bean or white lotus, and housed with a soft and tender cake. The cakes are usually stamped with the insignia of the maker or bakery, or with a meaningful artwork of some sort.
Mooncakes come in many types and with many versions, all varying in flavour, texture, and design. The traditional ones are more commonly distinguished according to Chinese provinces and the contemporary ones are more à la mode so to speak. Nowadays, many Malaysian bakeries and hotels introduce halal mooncakes so that fellow Muslim friends can enjoy the goodness of these confections together with their loved ones as well!
Traditional Mooncakes

Cantonese Mooncakes: The ones most of us Malaysians are familiar with. The cake has a toasty golden brown appearance and inside is often the sweet filling of white lotus or red bean.

Shanghai Mooncakes: Less of a 'cake' and more like a crumbly buttery tart, the filling is similar to the Cantonese mooncake - often lotus paste - but with salted egg yolk in the middle.

Teochew Mooncakes: Spiral pastry mooncakes, almost taking the shape of a Mont Blanc, with some of the most common fillings being taro, yam, lotus, and savoury ones such as pork belly!


Contemporary Mooncakes

Snow skin mooncakes: With a chewy, almost mochi-like texture, these non-baked cakes have crystal-clear skin and are sometimes fetching in a light shade of pastel. They are made with glutinous rice flour and often have a sweet filling. Unlike traditional mooncakes, they are enjoyed in a chilled state.

Ice-cream mooncakes: A clear drift away from conventional mooncakes, ice-cream mooncakes take the look of mooncakes but in delicious creamy ice-cream form. Flavours are unlimited, ranging from chocolate to raspberry to orange and many more!

Lacher's 2022 Mooncake Gift Boxes
The first ever! Two different types of halal mooncakes - salted egg custard and snow skin, 8 mooncakes per gift set, paper bag lanterns, Mid-Autumn wishes, packaging with meaning, and delivery to your loved ones in KL and many parts of Selangor!
Salted Egg Custard Mooncake
Relatively uncommon in the Malaysian mooncake scene, this salted egg custard mooncake has an egg custard stuffing instead of the familiar white lotus or red bean paste filling. This mooncake goes out to your loved ones who enjoy the traditional oven-baked mooncake and are looking for elevated flavours! Serve it at room temperature for an exquisite balance of sweet and savoury. Or serve warm by microwaving it for 5-10 seconds for an added melt-in-the-mouth softness!


Snow Skin White Lotus Mooncakes
A modern take on the classic mooncake, their cool and chilly pastel chewiness with a pleasantly textured sweet middle filling will give you a refreshing experience. Flavours are an imitation of our array of whole cakes bestsellers: Dark chocolate hazelnut, matcha red bean, raspberry, and yuzu mango.


Paper Bag Lantern
Paper bag now, lantern after! More than just a paper bag, it meant a lot to us that we give you an innovative, economical paper bag-turn-lantern in soft purple that colours the kids' day with joy and light so that your mooncake gift-giving experience is more worthwhile. Light up a tealight candle, place it onto the candle outline inside the paper bag, and watch in awe as the luminaries magically turn the paper bag into a radiant garden that emanates light into the night sky. Hold the lantern up with a stick and have fun!


Design
A direct translation of minimal French art with line drawings and pops of colour that symbolise the joys of family reunion to illustrate the traditions of the Mid-Autumn festival!

Fly us to the moon
The mooncake festival embraces human connections and because of its significance, mooncake gift boxes are impressive and grand to highlight the importance of this closeness. The name says it all, the design paints it out, and the taste completes it all. Altogether, mooncake gift sets give you the feeling of home and remind you that no matter the distance, the shared moon bestows upon you and your loved ones the same light - it is where family is.