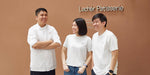 Q&A session with the owners of Lachér Patisserie!
Lachér Patisserie - an online Malaysian patisserie specialising in French desserts and bringing you the convenience of enjoying these desserts right from the comfort of your home! Yins, Seng Kian, and Chef Pang are the esteemed co-owners of this patisserie in the township of Ara Damansara.
Director Kian - the easygoing chap in charge of the operations side of things, Marketing Director Yins - the beauty-with-brains lady boss, and Chef Pang - the humble father of two, all've got a charm of their own which makes getting to know them a lot more tempting! Plus, many of our followers on social media often have questions about the brand, so hey presto! We've got the bosses to squeeze us in for a short Q&A sesh! Let's hear what they have to say about life as business owners.

1. Why did you start Lachér Patisserie? Was it always a dream of yours to open a patisserie?
Kian: Chef Pang and I always planned to have a dessert-related business even though we didn't know what kind of desserts we intended to sell at the time. That's why at the very beginning of our planning, there was no patisserie in our name, just Lachér. And fun fact, Chef Pang and I used to talk about opening an F&B business in secondary school! Around 2018, the 3 of us wanted a change of direction in our careers and somehow, our paths crossed. And we started coming up with ideas to see what kind of business we could start.
Yins: I've always loved desserts ever since I was young. The first time I visited Paris, I was impressed by their pastry because I had never had desserts like that before! I actually never thought of having an F&B business until I talked to Kian. When we were exploring ideas, we did not think of French pastry at first, but every idea before that just didn't feel right. Until it got to a point where I thought to myself, "Why not open a patisserie?" Because Kian and I were always so impressed by Parisian desserts and Chef has the skill! I knew this was the right one.
Chef Pang: When they talked to me about making this business happen, I knew it was the right time for me to go back to Malaysia. Of course, I had this worry, "What if it doesn't survive?" because I had a family to think about. But I decided to give it a shot.

2. How did Lachér Patisserie start?
Kian: We started in a very small kitchen (400+ sqft) in 2019 with very limited capital. We started everything online via our website and social media. We offered (and still do) only delivery and pickup and started expanding in 2020. Many times, our kitchen was too small to handle the number of orders we were getting. Because of low storage capacity, limited equipment, and a short number of staff, to name a few, we had to look for a bigger kitchen.

3. Do you guys have an investor or are you self-financed?
Yins: Self-financed by all 3 of us.

4. How did you come up with the name 'Lachér'?
Kian: We wrote down multiple French words and combined them until we got a nice and simple one - Lacher. Doesn't really have much meaning to it.

5. How did you know each other?
Kian: 3 of us are from the same hometown - Segamat. Chef Pang and I knew each other since we were kids.

6. How did you choose to become partners? What is your dynamic?
Chef Pang: It's more like fate, I'd say. It was like our paths were meant to cross and we were meant to work together. We did not analyse much of what working together would be like. It just felt right. We work really well together too! Before proceeding with anything, there's always solid communication (nothing was held back) and effective planning.
Yins: We were confident in each other, our values aligned and we respect each other. Even though I'm much younger than them, we see each other as equals.

7. What motivated you guys to start a business?
Kian: We're customers too. We have wants and needs, just like everyone else. And there may be people out there who want the same things as we do too. But since we couldn't find what we wanted in the market, why not create and sell them ourselves right? So that's what we did. In a way, we wanted to serve ourselves! (laughs)

8. How was life before starting this business?
Yins: It changed a lot. My previous job required me to travel often. I never stayed in Malaysia for more than 3 months. When I was back, I had more free time and used the time to travel around to other countries (for leisure). After starting this business, I work almost every day. I actually didn't expect to have the kind of lifestyle I have now, and it really is different from my life before.

9. Where were you trained?
Chef Pang: I learnt all my pastry skills from working experience after dropping out of high school. I did not graduate from pastry school. I worked at bakeries before moving to Singapore and meeting my mentor. Singapore was where I was introduced to the world of French pastry. My mentor taught me most of the French pastry skills which required years of practice and patience.

10. Is what you studied in university and your previous working experience completely different from what you're doing now?
Yins: Yup, I've got a Maths degree which has no relation to the F&B field and I started a small online business shortly before my graduation.
Kian: Mine's a degree in Multimedia Design and I worked as a web designer previously.

11. How does your previous experience benefit you now?
Yins: It benefits me a lot - from my travel experiences to the frustration of not having a proper system in my previous online business. I think everything in life will somehow be connected to the point you are in life right now.
Kian: Chef Pang and I previously invested in an F&B business. That was my first time stepping into this sector and it wasn't a good outcome. I have learned so much from that painful experience and therefore, I wanted to manage a business by myself.

12. What is something you know now that you did not know then?
Kian: A lot. Among them is a deeper understanding of the pastry field. Not only taste-wise but every technique behind a pastry and how every combination of textures and flavours affect each other.

13. Do you guys argue a lot?
Yins: I don't think we have argued before, but we have had moments where our opinions differed. We're human. We don't and won't always see eye to eye, but we always easily come to a conclusion that all 3 of us agree on. Lacher is a blend of all 3 of our personalities - and the mutual decision that blossoms out of our differing opinions perfectly describes our personalities combined.

14. How do you come up with flavour ideas and how long does it take?
Chef Pang: We try to focus on the flavours we don't have on the menu. Sometimes, we come out with a completely new flavour combination that we want to introduce to our customers. Either way, we always try to make every new product stand out in its own way - so they cannot be too similar. Every R&D is a long process. The taste, flavour, and design must be approved by all three of us.

15. Was it easy starting this business? What was the biggest hardship?
Yins: Not at all. We did not have any finances. When we first opened and uploaded pictures on our social media, we were flooded with support from our family and friends. But after a month, it became pretty quiet. At the same time, we realised that many Malaysians were not familiar with French desserts. Yes, we were concerned about sales but at the time, we were still experimenting with ways to market Lacher. Looking back now, we were rather chill. As time went by, we knew what wasn't working, and what was. It took a lot of trial and error. It was a slow and steady ride, but we let time work its magic. Eventually, we figured out our marketing direction and path, and we started gaining customers.
Kian: When the pandemic hit, everything ran at a faster pace. There were a lot of things we improved within the shortest amount of time because orders started coming in. Things such as the website, the back-end system, arrangement of drivers, etc. When you handle 10 orders, you don't see the problem. But when you handle 30 orders, problems arise. And we have to solve them as soon as possible while still having to work on many other things at the same time. I remember having to pre-plan the morning deliveries every day until midnight and then wake up early in the morning to go to work.
Chef Pang: At the start of Lacher's journey, we did not have all the machinery and tools we wanted to create the desserts because we had low finances. The air-conditioner we had was not strong enough to make the room cold (which made it harder to work with chocolate), and we did not have a dough sheeter to make tarts. I hand-rolled all the dough. A lot of adjustments had to be made. Back then, I made the cakes while Kian and Yins helped with the washing, cleaning, and measuring of ingredients while still working on managing and marketing Lacher. We all worked till 10pm on most days. We couldn't get sick, and hardly ever took off days.

16. How do you guys balance work and life?
All: We don't! (all laughs)
Yins: It was never balanced - even up till now! But the good news is that we are changing this lifestyle because we know it cannot be like this forever. It is definitely an unhealthy lifestyle, but I guess it is an unavoidable stage, especially during the first few years of starting a business.

17. What is next for Lacher? Will you have outlets in or delivery to other states?
Kian: What's coming next is Lacher moving to a bigger kitchen! We've been dealing with the kitchen renovation for months now and hopefully, we'll be able to move in within the next 2 months. The new kitchen will definitely open up many new possibilities for us, so stay tuned!

18. Would you open for dine-in soon?
Chef Pang: We don't think so because dining in is really different from our current operations. Currently, we will still focus on delivery and pickup to bring more convenience to Malaysians. One of the main challenges when it comes to having dining-in services is preserving the quality of the cakes because our cakes have a very short shelf-life.

19. Why are your cakes so expensive?
Kian: It depends on which market you are putting our brand in. Our price range is definitely above the traditional bakery. I believe one of the reasons for this is because most of our ingredients are imported and the quality we chose has a higher price range as well. In every R&D process, we always have to find a balance between giving premium tastes while still controlling the prices so that they won't be too high.

20. How did you deal with the recent inflation?
Chef Pang: I think many of us got the impact. We have been through this price adjustment from suppliers more than 3 times since MCO. We try to hold the price by ordering more stock or by partially absorbing them. But sometimes, the adjustment percentage is really high which is why we have to increase our prices.

21. What do you think about self-improvement books? Are there any that has helped you? Are you currently reading any books?
Yins: Yes! Some of the books I've read are, 'Ali Baba', 'The 4-Hour Work Week', and '#Girl Boss.' I'm currently reading 'The 7 Habits of Highly Effective People.'
Chef Pang: I read a lot of books by pastry chefs so that I can keep up with the pastry world and get inspired. At the same time, I learn a lot of new things which is very valuable to me as a pastry chef.
Kian: I am more of a movie/TV show person. I enjoy learning about a company's story which is why I enjoy 'The Founder', 'The Social Network', 'The Dropout', 'We Work,' etc. It's very valuable and I learned a lot.

22. Best advice for anyone wanting to start a business?
Yins: Be authentic and trust yourself. Insist on what you want and keep persisting until you see the results you want. Your gut knows best!
Kian: Do what you know with a plan and focus on what you're good at. Most importantly, persevere!
Chef Pang: Like Nike says, 'Just do it!' Everyone feels like they are not ready, but if you don't start, you won't know. At the same time, don't start too early without first having any experience or knowledge of what you plan to do. Take the risk, but be wise at the same time!

23. Where do you see yourself in 10 years?
Chef Pang: Resting more, and spending time with family.
Yins: Didn't think of this yet, maybe travelling around?

24. Happiest memory with each other.
Yins: At our first shop, when there were only the 3 of us working. We were working super closely with each other! Even though I am not the one who bakes, I assisted Chef a lot at that time! (laughs)
Chef Pang: I remember when the sales were just coming in. We used to get only 5-10 sales and we celebrated that achievement like it was the best thing to ever happen to us!
Kian: A lot of good memories back there, where the office and kitchen were just one step away. Technically our office back then was just a table with a few chairs. (laughs)

25. Describe each other's personalities in one word.
Yins: They are both chill and easygoing guys!
Chef Pang: Yins is thoughtful, and Kian is patient.
Kian: This is hard. I'd say, Chef is reliable, Yins is creative.

26. What was the most difficult/challenging thing to learn?
Kian: Management. I think managing a team and dealing with people is challenging because we're all different.
Yins: It's also important to find a balance in everything we do.
Chef Pang: I would say the R&D process because we need to take many things into consideration.

27. What is your favourite dessert?
Yins: It changes from time to time. My current favourite is our latest seasonal flavour - Black Forest!
Chef Pang: Tarte Tatin!
Kian: Our next creation! (all laughs)

28. Were your parents supportive of you?
Yins: My parents weren't as supportive but they didn't stop me.
Kian: Mine were always supportive as long as I wasn't doing anything illegal. (laughs)
Chef Pang: My mom was worried and kept nagging at me when I decided to quit my job in Singapore and start a business in KL, but it didn't really affect me much.

29. Do you see yourself as a stricter chef or stricter father?
Chef Pang: Stricter chef, definitely!

30. Finish the sentence: Pastry in the future looks like
Chef Pang: More varieties! There's so much you can do with flavours and textures. And there are many creative people out there. I see pastry becoming even more diverse!
There you have it!
Having come this far in just 3 years goes to show how hard work, dedication, discipline, teamwork, and respect can take you to great heights. It's not easy running a business while still juggling other tasks, but I can confidently say, as an employee, that they do a phenomenal job in finding a balance between managing a business and preserving the well-being of the team - some of the greatest qualities a leader should have. Always involved, yet always on the go, Yins, Kian, and Chef Pang are changing the French dessert scene in Malaysia!
Read more on the chef here: Meet The Chef Behind Our Cakes