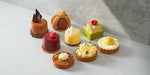 Entremets: What are they and why you should try them!
What are entremets?
Entremets literally mean 'between courses' in French. They were referred to as little treats served in between dishes as a palate cleanser or intermediary dish during a formal meal back in the day. However, today it has evolved into a standalone dessert, appreciated for its intricate construction and harmonious flavour combinations. 


What is the difference between a cake and an entremet?
The main difference between a cake and an entremet lies in their composition, construction, and presentation. Here are some key distinctions:

Composition

Cake: Typically consists of a single or multiple layers of sponge/cake, often with some filling in between such as jam, buttercream or frosting. It can be simple or elaborate in flavour, but the main focus is often on the cake itself. 

Entremet: A multi-layered dessert that incorporates a variety of elements such as sponge cake, mousse, cremeux, fruit compote, and glazes. They are often carefully assembled to create a well-balanced combination of flavours, textures, and colours.

Construction

Cake: Usually baked in a single pan or multiple pans, then assembled by stacking the layers with fillings and frostings.

Entremet: Each component is prepared separately using individual molds or rings, then assembled to form the final dessert. 


What's so special about an entremet?
An entremet is a sophisticated dessert where every texture serves a vital role in enhancing the flavors of its ingredients. The consistency of textures directly impacts the depth of each ingredient's flavor, making each layer crucial in creating a harmonious blend of taste profiles. Crafted with finesse, an entremet offers a sensory experience that instills a newfound appreciation for its meticulous composition.


Lacher's entremets
At Lacher, we've got entremets and entremet tarts! Entremet tarts are basically entremets, but all their attractive layers sit cozily on a crispy tart shell. 


What makes our entremet stand out?
Our flavour combos are either widely loved classics in the Western world that we believe will sit well with fellow Malaysians, or flavours that have so much depth to them that we know if properly brought out, would add a lot of value and oomph to a dessert.

Every textured layer is made with different techniques and procedures to enhance the flavours naturally loaded within these textures. Not only do they feel good in the mouth when consumed, but they individually showcase and accentuate the finest flavour profiles of the ingredients that we use - either fruit, chocolate, or both!


What are some of the entremets we have?
Matcha Entremet Tart
Matcha is often reduced to being described as strong or bitter, but its flavor encompasses much more than that—unveiling notes of vegetal sweetness, umami, and savory undertones. Our Uji Matcha Tart artfully showcases the vibrant spectrum of matcha's flavor profiles. Through layers of delicate Matcha Almond cream, velvety mousse, cushiony sponge, and creamy matcha ganache, it captures the essence of this captivating tea. Harmoniously paired with sweet adzuki red beans, it creates a symphony of complementary bitter, sweet, nutty, and savoury melodies.
Dark chocolate hazelnut
The Caraibe 66% dark chocolate from Valrhona's esteemed Grands Crus Blend range offers a delightful harmony of bitter undertones, sweet spices, roasted nuances, and fruity accents;  and the textures in our Valrhona Caraibe Hazelnut Praline mousse cake serve as a stunning backdrop that magnifies the extraordinary flavours of the chocolate in exquisite shades. With each bite, the remarkable flavours of the chocolate emerge from every crunch, fluff, cream, and melt-in-the-mouth velvet, blending together in a harmonious symphony of taste.


Pastry chefs often craft unique entremets, showcasing their individuality through designs, textures, and flavours. These versatile desserts tell a story and when crafted with meticulosity and finesse, they reach the pinnacle of quality, creating a lasting impression.
Our minimalist and elegant approach reflects the chef's calm and sophisticated personality. Each carefully designed entremets, accentuates the entremets gracefully and exudes a subtle grandeur that catches attention and draws you in. In a room full of cakes, entremets stand out as captivating desserts.


Lacher's entremets, along with our diverse range of cakes, tarts, and cookies, are Muslim-friendly. As entremets are what sparked our passion for French desserts and inspired the opening of our charming French-inspired only patisserie in Malaysia, we take great care in using only the finest halal ingredients without compromising the authenticity of French entremets.

Everyone deserves a taste of good dessert, and we want fellow Malaysians to take pleasure in the convenience of enjoying these popular French desserts that utilise French pastry skills while still experiencing the beauty of these technical desserts - in looks and most especially, in taste.


No ordinary cake: An experience worth having.
Entremets stand in a category of their own, distinct from ordinary layered cakes. They showcase a range of techniques, ingredients, and textures, resulting in a captivating and diverse flavour experience. When you taste a remarkable entremet, pay attention to its textures, the flavours that emerge from each layer, and how they harmoniously blend together. Just one slice is enough to enchant you, and a single bite can leave you hooked.