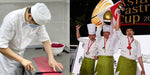 Meet The Chef Behind Our Cakes
Chef Pang Yun Kian, Lacher Patisserie's co-founder, and head chef is the man behind Lacher Patisserie's incredible French entremets and fantastic desserts! A former Asian Pastry Cup winner with an immense passion for baking arts, he's experienced a lot of blood, sweat, and tears to get to where he is now. Chef Pang is not a man of many words, but whenever he's free, he sometimes expresses bits and pieces of his life as a pastry chef to us. His story has always inspired me, and since many people have also been curious as to who the brain behind Lacher Patisserie's cakes is and what his story is like, I sat down with the man himself and had a little chat with him about his life as a pastry chef. Thankfully for me, he was delighted to give me (us) an inside look into his life. His answers may move you. 
1. I'm sure a lot of us would love to know about your journey towards becoming a successful pastry chef. Can you take us down memory lane and introduce to us your life before becoming a great pastry chef? 
I've always been interested in baking for as long as I can remember. When I was younger, I worked part time in bakeries baking cookies before landing full time positions in places like Genting Highlands, Sunway Hotel, and even a cake factory in KL. While I appreciate and value the skills that I've learned in those places, I still felt like something was missing. I wasn't learning what I wanted to learn - I wasn't even sure what I wanted to learn, but I knew that the knowledge I was gaining here at the time wasn't enough. I could feel it in my bones that there was something I needed to master if I wanted to achieve my dreams of becoming a professional chef and I wasn't acquiring it here. So, at 25 years old, I went to Singapore (since it was closest to home) in hopes of learning something more. I had the privilege of working in Marina Bay Sands, and Swissotel (where I met my mentor) before finally settling in Regents Singapore. That was where I was exposed to the world of French pastry. It was where I found what I was looking for. Where I learnt most of my skills.   

2. Why French pastry? Is there something about French pastry that made you realise that this was what you were meant to be learning? 
I had no idea back then, but when I was introduced to French pastry and taught about it, I immediately understood why that was what I was supposed to be learning. Most reputable hotels in Singapore serve French pastry, and it was only when I worked in those hotels did I learn that most of the techniques and skills I acquired before going to Singapore were wrong. Even with four to five years of experience, I had to start as a Commis Chef - the lowest position. But it didn't matter to me. I couldn't miss out on golden opportunities like that because I finally found what I was looking for. I learnt (and I truly believe) that if you really want to master the art of pastry making, French techniques are the most fundamental. It's the core of it all. It's like France owns the language of baking. Its complexity will give you a better mastery at dessert making. It requires great attention to detail, dedication, and patience. There's a different set of expertise required when it comes to French desserts. Once you nail that, you can pretty much nail anything, I would say.  

3. What was the biggest challenge you faced during your time in Singapore?  
Learning new things. Of course, I was excited, but there were a lot of baking terminologies used that I didn't understand. It was like a whole new world for me. I had to sort of study the minds of the other chefs to figure out what they were saying. Eventually, it got easier of course. Our head chefs were really strict too. There were many times where I was afraid of going to work because I was not sure how the day was going to go. To hear things like, "You've got no talent!" was really disheartening. But it does make you stronger. I wanted to prove them wrong because I knew what my capabilities were. My passion was my fuel. Without all that strictness (and what some might consider harsh), my determination, and patience, I wouldn't have run faster than the rest. I'm very grateful for that. 

(Source: The Straits Times)
4. Your team was the champion of the 2016 Asian Pastry Cup (APC). Would you say that this is your biggest achievement of all time? How did it feel to win such a prestigious award in the pastry world? 
It is one of my biggest and most proudest achievements. Honestly, I didn't expect us to win. It was so surreal, it felt amazing! The APC was my first ever competition and it was broadcasted live on TV! I felt victorious! It definitely wasn't easy. I worked 16-18 hours almost every day. Annual leaves, off days, and after work hours were my training time. My mentors took time out of their day to properly coach us too. It was a lot of sacrifice. My APC journey and victory is something I will take with me forever. Oh, and I would also like to add that I personally think more opportunities like this should be given to young chefs with little to no experience. It'll allow them to unlock a lot of skills they've probably already mastered but were too afraid to execute. And it'll be a great learning experience too. 

5. If I were to have asked you 10 years ago, would this be where you expected yourself to be? Would you say that you have achieved all that you wanted to? 
I wanted to be a sous-chef. That was the dream. But as you grow older and work in many departments, get exposed to many different sets of skills, watch your chefs compete in competitions, your dreams sort of change. Mine changed a couple of times. After spending 6 years in the Regents, I went for a few interviews and was offered great job opportunities. But my plans changed. My friends and I decided to open our very own patisserie. And that's how Lacher Patisserie came to exist. We had the drive, the necessary skills, and a similar passion. This is a great milestone for me, but my dreams don't stop here. I still want to get bigger machinery for larger and better production. Maybe even work on opening a cake factory. That's still a long way into the future though! We have a lot to learn still.  

6. I would say that Lacher Patisserie is known for coming up with cakes which have combinations of flavours a lot of us would have never expected to work in a dessert, but they do! How do you come up with all these ideas? Do you give as much importance to the design of the cakes when you brainstorm ideas? 
To me, the flavour is always the most important step, then the design. The cake is a fail if the taste is a fail. There are people who focus too much on the design of the cakes until the taste is compromised. Extravagant designs are also very costly, especially if you're using only the finest ingredients. In this case, you're probably paying a lot mainly for the decorations. I want my cakes to really stand out in terms of taste. I like experimenting with different flavours and textures. I mainly make French desserts, but the flavours I combine in my cakes, as odd as they may seem, are the flavours I know most Malaysians will be able to accept and enjoy! I do my research, brainstorm and work my magic. There are a lot of trial and errors, but eventually, I'll end up with exactly what I was hoping for. To hear people say that they enjoy my cakes; that my cakes are so different and unique; that every bite makes them crave for more, is truly gratifying and humbling. That's what I'm here for.  

7. Would you say the cakes you make are a representation of your personality? 
I would like to think so. I consider myself a simple guy. (laughs) If you look at the designs of my cakes and the overall theme of our brand, it's very minimal. Minimalism doesn't mean a lack of technicality and intricacy. I guess I'm like that too. I would say that I'm a burst of ideas. There are a lot of thoughts that go through my head - it's almost a mess - but the words that come out of me and my overall way of living is pretty chill. With my cakes, I like portraying the elegance and complexity of each cake in its simplicity. They shine grandly, yet ever so simply. 
8. How does it feel like being a head chef? Would you consider yourself a strict chef like your previous head chefs? 
It feels great, but it's a huge responsibility. I want to be a great teacher to my chefs so that they reach greater heights. And to do this, I have to be strict. When you've got a strict teacher, you may feel very misunderstood and you may even get frustrated. That's how I felt too. Now that I'm in this position, I understand the intent behind every strictness. I'm stern because I want them to grow and improve. That's how I grew and improved. If you're not strict, quality will deteriorate too. Efficiency decreases. Despite that, I know when to slow down. I'm not going to put unnecessary stress on my chefs. I want them to enjoy the experience. There's always a balance to be reached, a line not to cross. Strictness is important only where it's due. I may seem like a tough teacher sometimes, but I hope my chefs know that my intentions are pure. I want to see them flourish and gain the skills that I have (and even more). 

9. Who is the one person you look up to the most? 
My mentor and chef, Chef Alex Chong. He really took me in and believed in me. Moving to Singapore all alone at a young age even when my parents weren't too happy with my decision at the time was scary and lonely. When I met my mentor, it was comforting and reassuring to know that he believed in me when it felt like no one did. He is fantastic at pastry arts. I learnt great things from him. His journey towards becoming a professional chef is incredibly inspiring. 30 years ago, he didn't have the internet like we do now. He mastered all the skills by flying to different countries to learn from the best. So I understand the frustration that he feels when some of his students just don't appreciate his work. He has a way of coming up with new recipes from the get-go, the ability to calculate just exactly how much of a certain ingredient a cake needs, and is able to figure out exactly what tweaks need to be made to elevate the taste of a cake just like that. That to me, makes an outstanding chef. To this day, I respect his skill and passion.  

10. Many people have been asking for lessons from you. How does that make you feel? Do you see yourself giving classes when you're older? 
I'm absolutely honored, but I don't see myself giving lessons anytime soon. It's not completely out of the picture though. I may consider it one day. At this time, I'm really tied down with work. There are also so many things I have yet to achieve. The students I have right now are the passionate chefs who work with me. I want my focus to be on them and Lacher Patisserie for now. 

11. Finally, is there any advice you would like to give aspiring pastry chefs? 
Yes. It's not going to be easy. If you really want it, you need to believe in yourself and take that leap of faith. Don't break under pressure. Do your best to withstand the whole process, from a Commis Chef to a Head Chef. There may be times where you feel like giving up, like it isn't worth it, but it really is. I really mean that. It takes a lot of passion, determination, and discipline if you want to succeed as a professional pastry chef. If you want to soar high, you'll need to grow your wings. It's going to take a lot of falls, but eventually, with practice, you'll fly. And that's going to be a very rewarding feeling.

Chef Pang Yun Kian: His passion drives him, his heart guides him. 
Our conversation was truly delightful. Believe it or not, Chef Pang is a shy and humble man who radiates kindness - you wouldn't imagine him to be the strict chef he described himself to be. His eyes sparkled with passion and adoration as he expressed some of the purest, most meaningful parts of his life. With a creative mind and skillful hands, Chef Pang Yung Kian is a force to be reckoned with. If you're someone who is passionate about desserts, or is aspiring to be a pastry chef, I hope this article (and Chef Pang) has inspired you. If you were just interested about Chef's story like I was, I hope you're content with his answers and that your curiosity is satisfied!
If you're new to Lacher Patisserie and are eager to have a taste of Chef Pang's creations, head on over to our website and place your orders there!