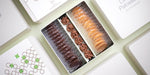 This modern 2021 Hari Raya Cookie gift box will leave a striking impression!
A modern twist to your traditional Hari Raya favourites.

Looking to add more variety to your Hari Raya snack table this year? Look no further. While traditional Hari Raya cookies are absolutely amazing, you'll probably already have a lot of them stocked up this year (like every other year), and you'll likely receive more from family and friends. We're sure they taste divine, but wouldn't it be great to add a little more diversity to your already scrumptious, but regular cookie collection? Or to someone else's cookie collection? We want to be a part of your Hari Raya celebration by bringing some deliciously unique cookies to your Hari Raya merriment.  
Introducing Memorable Eid - our 2021 Hari Raya Cookie Gift set! Staying true to our brand's minimalistic approach, our Hari Raya cookie gift box comes in a chic tinplate container in the colour cream and is complemented by a white sleeve with repeated geometric patterns and pops of green to symbolise the fresh, lively colours of Eid al-Fitr. Having been inspired by traditional tiffin containers and the ever so beautiful Arabic Islamic patterns, we worked with our designer to have these two elements incorporated into our cookie gift set. The tinned container is not only one of the safest forms of food packaging, but is highly functional and very pleasing to the eye. We just had to use it.
Deliciously unconventional.
In this box, you'll find 3 one-of-a-kind Hari Raya cookies - Chocolate Hazelnut Shortbread, Valrhona Satilia Rochér and Gula Melaka Coconut cookies. These cookies, which are handmade from scratch, were brainstormed and cooked up based on the likings of many our fellow Malay friends and the general fondness of Malaysians towards each of these flavours. They are different in the best way possible and you'll definitely not want to miss out on them.
1. Chocolate Hazelnut Shortbread
We know that chocolate is a staple during Hari Raya, and since we had so many people fall in love with our Chocolate Hazelnut Shortbread during our CNY special (with people still ringing us up for more), we just had to bring it back for Hari Raya because we know that you're going to fall in love with them just as much (or maybe more!). They are made of 54.5% Dark Belgian Chocolate and a hazelnut praline paste that we handmade ourselves. The bittersweet chocolate cookie marries the toasty and naturally sweet hazelnut praline to make this cookie stand out from any other cookie you've probably ever eaten. They're crunchy, crumbly and oozing with chocolate; It'll knock your socks out.
2. Valrhona Satilia Rochér
Caramelised roasted almond pieces are generously coated with premium Valrhona milk chocolate to form bite sized chocolate-covered nut clusters to satisfy your almond and chocolate cravings. The smoky taste of the roasted almonds which enticingly embraces the toasty, golden-brown caramel, exquisitely complements the milk chocolate, giving these cookies a perfect nutty to sweet ratio. They're crunchy, incredibly nutty and very chocolatey! On your first bite, you'll taste the sophistication of the chocolate and its quality will definitely steal your heart. (Note: these aren't to be confused with the ever so famous Ferrero Rocher, as the two are completely unrelated and different from one another).
3. Gula Melaka Coconut Cookies
These fragrant Gula Melaka Coconut Cookies will tantalise your tastebuds in the best way possible. They have a variety of textures, from a soft crunch to a gentle chew. When you bite into these baked goods, you'll notice the fresh scent of coconut whiff through your palate as the sugar particles that dazzle the rounds of the cookies melt in your mouth. The Gula Melaka then slowly creeps up and delightfully welcomes you with a subtle but deep caramelised taste. The slightly nutty and toasty taste of the coconut which entwines remarkably with the smoky, but sweet Gula Melaka make these cookies a terrific one! If you're a fan of Kuih Keria (or Gula Melaka in general), these cookies will blow you away.
A package to remember.
Diversify your Raya snack selections this year with our Hari Raya cookie gift set which is different, unique and simply unmatched. If you're looking for a Hari Raya gift to surprise your loved ones with, this cookie gift set would make a great one because what better way to bring someone closer together than with the gift of good food? Or simply wrap this gift box up in your Hari Raya Hamper(s) and send it over to someone special. Every cookie in this box is made with only the finest halal ingredients so you know you're only getting the good stuff. In addition to that, the visually attractive box is perfect as a collectable and can be reused however you would like.  
Gift this Hari Raya Cookie Gift Box to your family and friends and watch their eyes light up with joy and curiosity as they dive in to try the cookies. We're sure that they would have never anticipated it. And if you're rushing for a last-minute Hari Raya present, simply hop onto our online cake shop and place your orders (by 2pm) as our Hari Raya gift box is available for same-day express delivery. You can even add on your well wishes in the message box provided and we'll deliver your messages too!
One thing we're sure of - this Hari Raya Cookie Gift Box will definitely leave people with a lasting impression.
Selamat Hari Raya Aidilfitri to all of you celebrating.
Maaf Zahir dan Batin.