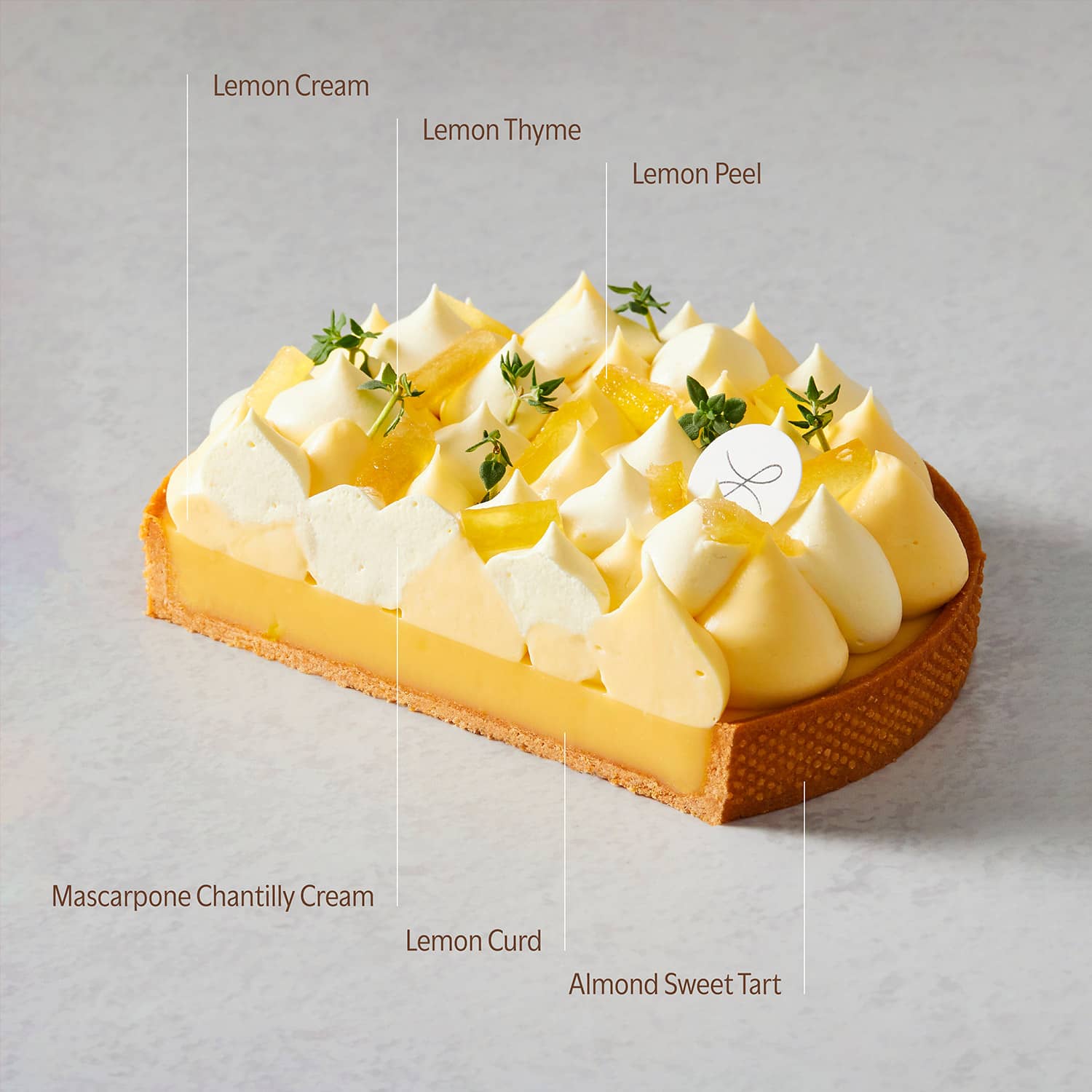 Same-Day Delivery Available
Lemon tart
A sun-kissed tart with a gentle lemony breeze - like a breath of fresh air. 
This classic lemon tart will enchant you with its enticing appearance, pleasantly welcome you with the fresh scent of lemons, and will especially charm you with the gentleness of its clean sweet and sour flavours. With a pleasantly sourish smooth lemon curd, a soft citrusy lemon cream, a sweet crunchy base, and a sweetened mascarpone chantilly cream, this light and refreshing variously textured tart transforms the intense sharp flavours of lemon into flavourful tender whispers of sweet and tang.

The lemon curd is thick and smooth with a rich zesty lemon taste. The lemon cream adds a pleasant touch of palatable tang and gives the tart a nice silky texture to complement the denser curd. The handmade sweet almond crust is one of the highlights of this lemon tart. Its crisp buttery almond flavours harmoniously soften and enhance the acidic flavours of the lemon filling and gratify you with a good crunch. The Chantilly cream is extremely light and airy, and delicately washes down the overall sourness of the tart.

Dreamy, breezy, and lemon squeezy, this lemon tart is like a breath of fresh air. The soft lemony flavours are cooling and relaxing - it's perfect for winding down after a long day. 
Note: If lemon thyme is out of stock, we will replace it with thyme. 
Refrigeration (0-4°C): Keep refrigerated immediately upon receipt for at least 30 mins. Avoid freezing.
Serving Temp. (10°C - 12°C): Take the cake out from the fridge right before serving.
Best Consumed Within 2 Days: Maintain freshness for up to 4 days with proper refrigeration.
Cutting: Use a stainless steel knife for clean slices.
Consumption: Fork into every layer to savour the full experience.
By Car: Due to temperature sensitivity, we recommend transporting our cakes only by car.
Flat Surface: Ensure the cake is on a level surface at all times.
Short Journey (up to 1 hour): Keep AC on high; avoid sun exposure.
Longer Journey (over 1 hour): Use a cooler bag and ice packs to preserve cake freshness.
(Note: We do not provide cooler bags with orders, but our deliveries are made using cooler bags for optimal quality.)
FAQ
For same-day delivery or pickup, please place your order by 2pm. This allows us sufficient time to prepare your order and arrange for delivery or pickup.
If a time slot is unavailable, it has passed our cut-off time. We require a few hours to prepare each order and to coordinate logistics, so slots beyond the cut-off time are closed to ensure quality and efficiency.
We do not offer message writing on cakes. However, we provide a personalized message card service. Please enter your message in the designated box above when placing your order.