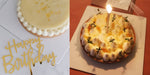 These Aesthetic Tarts Could Very Well Be Your Next Birthday Cake!
When you think birthdays, you think cake. But when we think birthdays, we think tarts too!
That's right. Delicious, mouth-watering, captivating tarts with a whole lot of cakegasm. Oh, and did we mention that they feed guests?!
These aren't your traditional fresh from-the-oven egg tarts or bite sized fruit tarts that you're probably thinking of. They're desserts that come in full 6 inches to be shared with and enjoyed by everyone at the birthday party!
Birthdays = Good 'cake' + Good company
Now, if you're reading this trying to see if it convinces you that a tart is a good birthday cake replacement for someone, then you can check good company off the list. Because you my friend, are good company. Now, it just comes down to the center of attention (aside from the birthday boy/girl of course) – the 'cake'! The sweet confection everyone looks forward to at every birthday celebration.
Chances are, you browse through online cake shops every year, trying to look for a good birthday cake to surprise someone with. And you've probably almost always found something you know they'll like – chocolate cakes, red velvet cakes, cheesecakes, just to name a few. Well, we think it's time you switched it up a bit this year.
Here are some aesthetically pleasing and immensely delicious tarts that you could replace a classic birthday cake with!

(Credit: @sherreenl and thatislelife.com)
KOCHI YUZU MANGO TART
This yuzu mango tart castled by clouds of fresh mascarpone Chantilly cream makes a stunning birthday treat. This dreamy tart has layers of French almond cream, Kochi yuzu curd, Jaconde sponge and yuzu mango curd, with a crunchy almond crust and a lime zest finish. Just imagine the citrus of yuzu gently embracing the sweet notes of mango. It's light and refreshing, with flavours and textures that fit perfectly together. It's got everything a birthday 'cake' needs – impeccable taste, and a pretty face. Pop some candles in there, and celebrate the existence of your loved one! A beautiful person deserves a beautiful birthday tart.

(Credit: @carsontaan)
CITRON TART
Most people have only ever seen a petit lemon tart. Well, now's a great chance for the birthday boy or girl to enjoy a full sized lemon tart with the guests. This lemony tart is more than just its pretty looks and makes a wonderful birthday cake! It's light and refreshing, just like the yuzu tart (above) with a subtle but delicious citrusy taste that just caresses your palate with each bite. Its perfectly golden tart crust and lemon curd filling harmonise beautifully with the fluffy Chantilly cream and soft lemon cream. Instead of the usual strawberry shortcake, or the classic sponge cake, try this lemon tart for a change. Just like you would a cake, insert a birthday cake topper, a few of candles, and celebrate the night away!
Tarts - a new addition to your birthday tradition
Sure, birthday cakes are a good ol' classic, but traditions can change!
Cake makes people happy? You bet, it does. But good quality tarts make people happy too!
We've had many customers have these tarts delivered right to their doorsteps to surprise their loved ones with. And from the feedback we've gotten, it was very well received! They really do make a cute and unique birthday gift. No doubt.
So, instead of getting another birthday cake this year, surprise the birthday girl or boy with a tasty birthday tart – made with only the finest halal ingredients and baked with a whole lot of love! We're sure they'll be pleasantly surprised. What's more, these tarts are available for same-day express delivery to the Klang Valley - KL and PJ (before 2pm). So, you can bid goodbye to the last-minute birthday gift-hunting stress. Just order online and it'll welcome the of guest honor in no time!
But if you simply must get them a cake, I'm sure they'll appreciate it, regardless!